New Pacific Metals Corp (CVE:NUAG) (OTCQX:NUPMF) on Tuesday revealed that it has extended broad areas of silver mineralization at its Silverstrike project, southwest of La Paz, in Bolivia.
The Canadian exploration and development company acquired a 98% interest in the Silverstrike project in December 2019. Reconnaissance and detailed mapping and sampling programs have been completed on the northern portion of the project, said the company.
New Pacific said the results to date indicate "good to excellent exploration potential" for hosting narrow high-grade and near-surface broad zones of silver mineralization.
In Tuesday's project update, the company shared highlights of assay results from Silverstrike North which include 1,865 grams per tonne (g/t) of silver and 0.96% lead over 2 metres and 1,665 g/t silver, 0.43% lead and 1.42% copper over 2 metres.
Silverstrike North is centred on the historic Berenguela Mining District and is characterized by abundant historic mine adits, declines, shafts and spoil heaps scattered intermittently over an approximately 3.5 by 2.2 kilometre area. It includes the Valley Zone, North Top, Tarafaya Mine, South Top, West Top, and CP Zone in addition to the former San Luis Mine, Lourdes Ines Mine and the Turini Mine which are discussed below.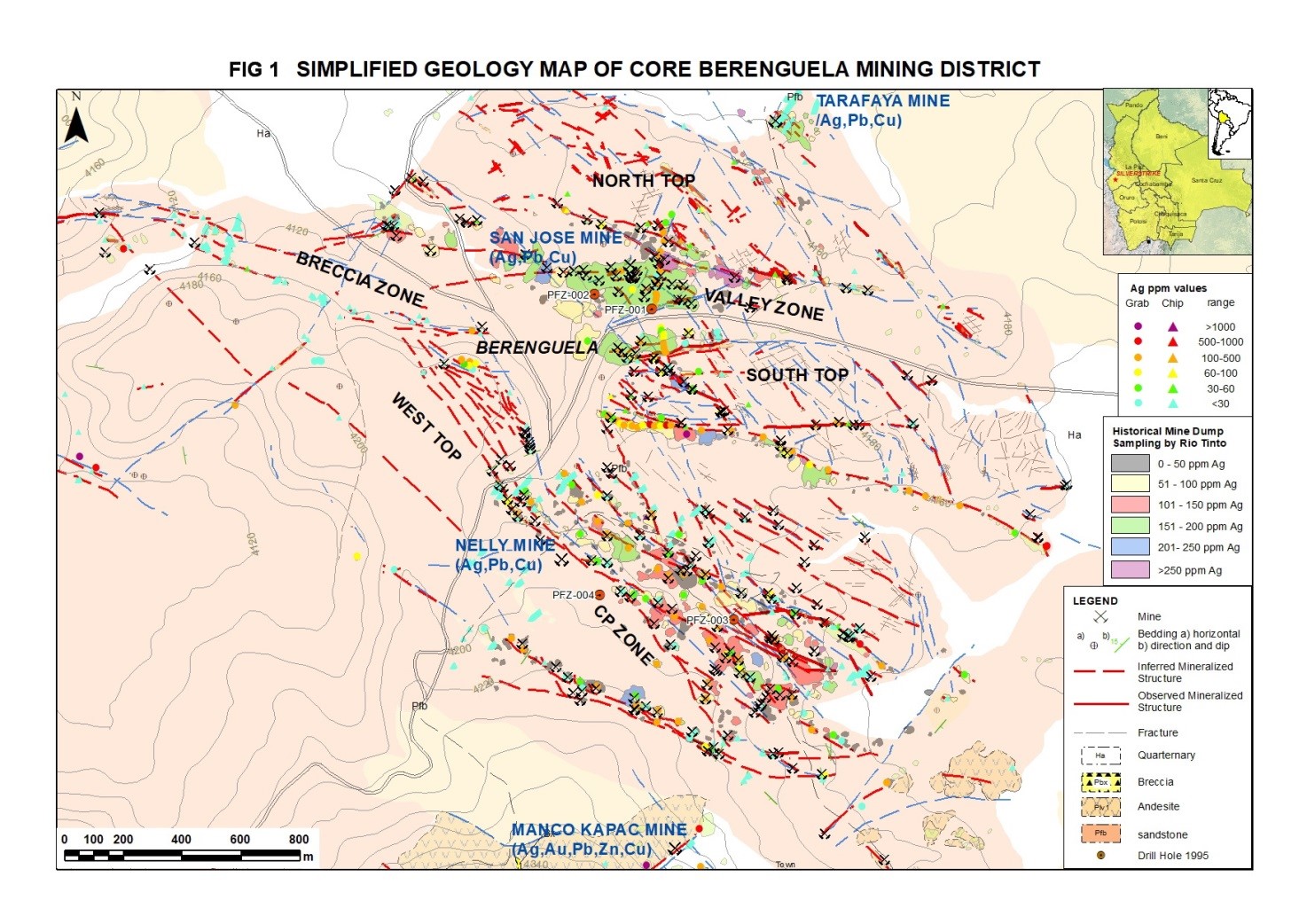 In March, the company initiated an exploration program consisting of 1:5000 scale reconnaissance and 1:500 scale detailed geological, structural and alteration mapping and geochemical sampling programs. The program was aimed at geologically defining and sampling the extents of the hydrothermal systems, including extensive Spanish Colonial-era historic workings to develop drill targets.
The exploration team identified and sampled numerous mining adits, declines, shafts and surface open pits. Historic mining operations were developed along steeply dipping fracture zones which ranged from 0.5- to 2-metres wide developed in altered or bleached Tertiary aged sandstones. In addition, several new mineralized zones were identified as part of the field work.
A total of 2,751 samples were collected including 2,607 channel chip samples and 144 mine dump grab samples. The company said that all 2,751 assay results have been collated and show that 56 samples have "silver grades less than 300 g/t (average 696 g/t Ag), 163 samples with nearly 100 g/t (average 347 g/t Ag), and 236 samples just under 50 g/t (average 262 g/t Ag)."
New Pacific Metals exploration team is currently completing mapping and sampling of the Silverstrike Central and South areas summary results. After integrating the geochemical sample results, the company will generate drill targets for testing. It will then work on getting the necessary drill permits that are tentatively expected to come through in the fourth quarter.
Contact the author Uttara Choudhury at uttara@proactiveinvestors.com
Follow her on Twitter: @UttaraProactive