Japan Gold Corp (CVE:JG) (OTCQB:JGLDF) reported encouraging surface sampling results from its Barrick Gold Corp (NYSE:GOLD) exploration alliance work programs covering the Mizobe Project in the Southern Kyushu gold region of Japan.
The Barrick exploration alliance was formed in February 2020 and covers 29 out of Japan Gold's 31 projects in the "Land of the Rising Sun."
In a statement on Wednesday, the Canadian mineral exploration company said the Mizobe Project, which includes the Mizobe and Mizobe 1 Extension, is located along the western edge of the Kagoshima Graben, in Japan's gold-fertile Hokusatsu region. It is the country's largest gold producing region, with more than 11 million ounces of combined production from low-sulphidation epithermal deposits.
The Barrick alliance covers 29 projects, collectively around 1,600 square kilometers, and includes geochemistry, multielement geochemical stream sediment surveying, bulk leach extractable gold (BLEG) analysis, and rock float sampling.
The Mizobe Project results are as follows:
There were 84 rock float samples collected with 54 assaying gold greater than 0.5 grams per tonne (g/t) Au including 22 assaying greater than 4 g/t Au with a peak value of 18.9 g/t Au
Several gravity-high features defined across the project coincide with at least four clusters of gold in rock float anomalies
Gravity data has undergone additional processing for structure detection and has identified several favorably oriented northeast trending features associated with gravity-highs
The Mizobe Project covers 5,163 hectares and forms part of a larger contiguous project package covering 96,227 hectares, or 80% of the prospective, explorable ground in the Hokusatsu region.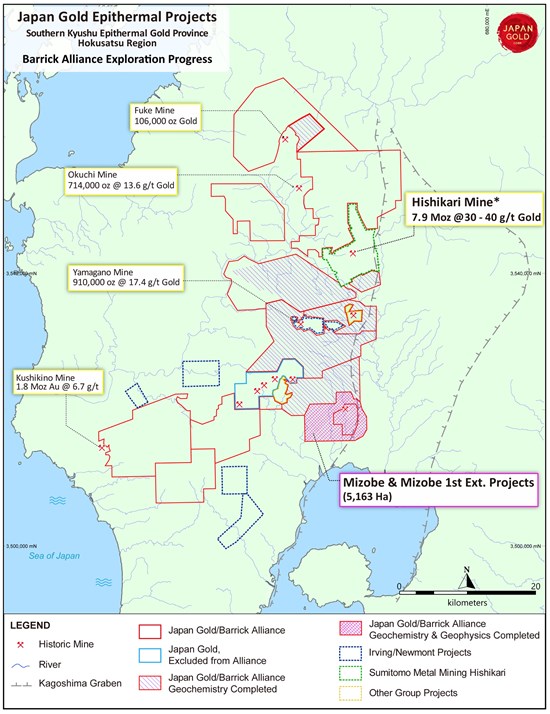 Historic mining activities were focused on antimony mineralization in the northeast at the Semari and Chuzono mines. Antimony is a pathfinder element for low-sulphidation epithermal gold mineralization and is commonly found in the upper parts of the system above the main zones of gold precipitation.
Separately, rock float sampling has confirmed anomalous drainage basins including those containing the historic Semari and Chuzono antimony mines, as well as two new anomalous catchments — the Tamari valley and the Setodan valley on the western side of the project, and the Fusayama valley, near the Tamari valley.
Strong antimony-gold anomalism and the superimposition of banded quartz veins on hydrothermal breccia, indicate the exposure of the upper portions of a gold bearing epithermal system. "Deeper gold-rich feeder veins of the epithermal system will be the target of future exploration," said the company.
According to the company, the BLEG sample assay results are pending and will help to "identify and refine" anomalous catchments within the Mizobe Project.
Canadian mineral explorer Japan Gold is focused solely on gold exploration across the three largest islands of Japan: Hokkaido, Honshu and Kyushu.
Contact the author Uttara Choudhury at uttara@proactiveinvestors.com
Follow her on Twitter: @UttaraProactive